Monthly Archives:
March 2015
I rescued Poppy through COD. She was a timid puppy from down soutth that initially I was going to foster. She was diagnosed with Parvo shortly after arriving. She pulled through and I couldn't let her go! I enjoyed many years of her love but sadly she fell ill suddenly and the best vet in the area couldn't save her. I am heartbroken but have loving memories of her. Thank you COD!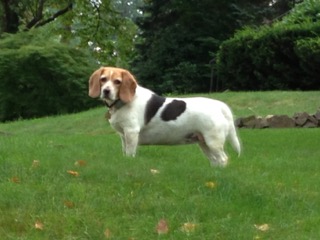 Our family adopted Molly Girl back in 2008.
I can't tell you how much joy Molly gave us and how many smiles Molly put on our faces and on the faces of so many people in our lives. She had the sweetest personality and made you feel good on a bad day when she greeted you with her wagging tail and her unmistakable Beagle bark/howl!
I'm writing just to let you know that sadly we had to put Molly down this past Saturday. Molly would have been 7 years old on November 19, much too young for us to lose her. Molly was very recently diagnosed with lymphoma and it progressed so fast.
Ours hearts are sick with sadness and there is such an emptiness in our home.
She lived a happy life with us and completed our home. She will be forever missed.